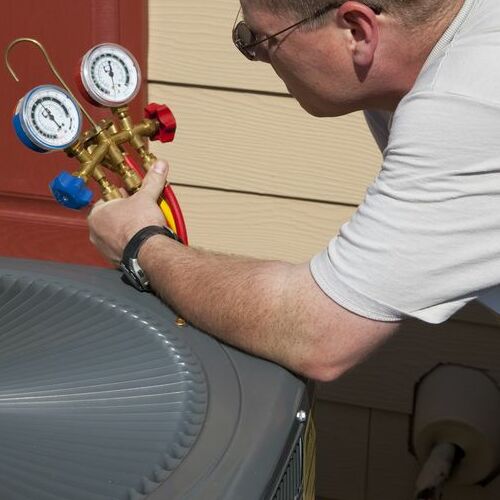 Comparing Brands
When most of our clients begin considering an HVAC project, they start to research the different equipment brands. Here's a little insider secret, all brands are the same and equal. Everything comes down to marketing.
As an example, when Verizon first started running ads on TV, we all said "WHAT I NEVER HEARD OF THEM". So what did Verizon do, they kept advertising and drilled the name into our heads. This is called branding, drilling a brand name into the consumer's head and nothing more. Every brand has different lines or ("TIERS") of equipment with options of features offered.
Trabuco Air recommends that our clients compare apples to apples based on what "features" the system you're considering offers. Each manufacturer has more than one branding name. Here are just a few examples. Carrier/Bryant. Rheem/Ruud. Goodman/Amana. Trane/American Standard. York/Luxaire/Coleman/Guardian. Day and Night/Heil/Comfortmaker/Tempstar ICP, owned by the parent company of Carrier.
Comparing brands is nothing more than comparing names or letters; really it's all about marketing. Find out more about the HVAC brands in Corona, CA that we service by calling (951) 268-7170.
Comparing Features vs Brands
The furnace that you choose may be the most important decision when installing a new HVAC system. Here are some things to look for:
Efficiency, rated by 80%, 90%, 92%, 95%, 97% AFLUE, annual fuel utilization efficiency.
Type of heating output, single output, two stage output, three stage output, or modulating output.
A "modulating furnace" will provide the most "even temperatures" throughout your home.
How "quiet" the furnace is may be the most "important" consideration. The quietest furnaces on the market are the modulating type and cost the most. Yes you get what you pay for.
Consider Blower Motor
"Standard" Blower motor fan is off or on and "uses the most electricity" it packs a mind-boggling "500 watts" of electricity which is equal to five 100-watt light bulbs. A six speed "X-13" blower motor fan has six speeds, is more efficient, and much quieter, this motor by some contractor's is referred to as a "variable speed". "This is a blatant lie".
This type of blower motor fan is a much "lower quality" than a "true variable" speed blower motor fan and was designed so air conditioners would get a higher efficiency and the furnace would "cost" less to manufacture than a furnace with a "true variable" speed blower motor fan.
A "true variable" speed blower motor fan is much different and offers much more features. A "true variable" speed fan is so efficient that the variable blower fan motor can be run twenty four hours a day using approximately only "60 watts" of electricity, or equal to one "60" watt light bulb. A "true variable" speed blower fan motor is designed to "reduce excessive moisture, "humidity" in your home during days when it's "sticky" outside as well as indoors.
True Indoor Comfort
True indoor comfort relates to indoor temperature as well as the indoor humidity environment. Have you ever worked on the outside of your home at 90 degrees and it's dry outside? It doesn't feel that uncomfortable?
Now have you ever worked on the outside of your home when it's 85 degrees and it's humid/ What happens, you get soaked with sweat and your burning up? With a "true variable" blower fan motor and a special thermostat use can set the required humidity level in your home. True indoor comfort; hence "AIR CONDITIONING" and not just cooling the indoor air.
The proper indoor humidity also helps our clients reduce dry sinuses, dry skin, as well as having a scratchy throat conditions. At the very least we recommend investing in a "two-stage and variable" speed blower motor fan furnace.
Comparing Brands vs Contractors
When comparing brands, it's a losing proposition. Here's an example of brand comparing. Say you're going to buy a Toyota. Now let's say Toyota has two manufacturing plants, one is the US and one in Mexico. Would both Toyota's the same?
Every homeowner wants to find the "BEST" brand and then find the one magical contractor who will install the brand correctly, do clean work, pay attention to details, provide great-after the fact service, and be "CHEAPER" than all of the other contractors.
Research the contractor, their employees, the principles of the company, as well.
Go look at some recent work that the contractor has just completed.
Ask for only the latest referrals, and then decide. If you needed a heart surgery, you wouldn't get 10 bids and hire the cheapest heart surgeon would you?
Remember you're putting your hands and trust into the contractor. Ask the contractor if they put their installation practice's in writing.
You're Making an Investment
You're buying an HVAC mechanical device and you're paying for comfort and "workmanship". When you buy a TV, washer and dryer, computer, auto, room addition, a kitchen or bathroom remodel, and any others, we're making an investment. We wouldn't buy a black and white TV, a 100 mb computer hard-drive, a washer which only has hot or cold wash cycle option, or the loss leader stripper auto. Why is HVAC any different?
When we are investing in a room addition, a kitchen or bathroom, would we hire the cheapest contractor? We will have to live our HVAC, room addition, kitchen or bath room home improvements much longer that our auto? Yet we buy the best auto with the most options that our budget will afford. Would we have a vehicle with no heating or air?
Most vehicles today have an 'DUAL" climate control option and most of us chose this option. Why? Because we want to be comfortable. Yet we only spend about 12% of our lives in our auto and spend about 60% of our lives in our homes. If we want to be comfortable 12% of our lives in our vehicles, wouldn't we want as well to be comfortable 60% more of our lives?
So why do we put in an econo model HVAC system? One reason; because we can't show it off. When we have our friends and relatives over and your home is uncomfortable, that's all they will remember. If on a hot sticky summer day we're having our friends and relatives over, and they feel uncomfortable inside of our homes, that's what they will remember.
Invest in the system which provides the most comfort your budget can afford. Go a little outside your comfort zone and finance a small portion to get the system that's right for you. Remember you can't take your new HVAC system for a test drive and return it to the dealer if you're not happy.
How do I decide what type of tier system to invest in?
Have a "qualified" contractor examine your home.
Talk with you about what "your" requirements are.
First think about how much you use your heating and air system. Do you use your heating and air very much? Why?
Would you run your heating more if it cost less to run?
Would you run your air conditioner more if it cost less to run?
Would you like to have a quiet furnace?
Would you like to have a quiet air conditioner?
Would you like to be just cool or would you want to have a home than is crisp and cool?
Let the contractor explain why they're recommending the system.
Ask the contractor what are the "benefits" of the system that is being proposed.
Ask the contractor if you were to invest a little more in your home comfort system, what would be the additional "benefits"
Then decide what you really want form your new HVAC system.
Forget the online reviews
I can go to site that will say so and so's brand is better than so and so's brand. Then I can go to other site that will say just the opposite. Every consumer and contractor has their own personal spin. How do we not know that the manufactures aren't having people write these reviews? We don't know who is really behind these reviews and if the people who post and write blogs are even qualified.
One of the biggest mistakes that we commonly come across is the consumer over researching brands, and then they confused themself with this research. This is what is known as an instant HVAC internet expert.
Performing internet research is a great tool if used properly. Performing prudent internet research should not be limited to just brands and warranties. While conducting internet research, it is paramount that the consumer research brands, features offered, the contractor, his employees, all principles of the company, as well as contractor referrals only from the last three to four projects completed. This will give the most recent snapshot of the contractor's abilities.
Once again it all comes down to features and the contractor.
Comparing Brands
Why forget the warranties?
Warranties are marketing ploys. Remember when Hyundai was known as a crap auto, what did they do? Give a one hundred thousand miles warranty and people started buying their autos. Really, the manufacturers know many people buy on brands and warranties, and not features.
Manufacturers have a little clause that says, "EQUIPMENT MUST BE MAINTAINED". So what does "MAINTAINED" mean? Very subjective.
The best warranty is hiring the best contractor.
For service, sales, and replacement of all makes and models of temperature-control systems, call the premier provider of air-conditioning and heating services at (951) 268-7170. Trabuco Air provides quality heating services in Orange, Laguna Niguel, Foothill Ranch, Lake Forest, Irvine, Huntington Beach, Fountain Valley, and Anaheim, CA. We provide low-cost heating repair, installation, and service.